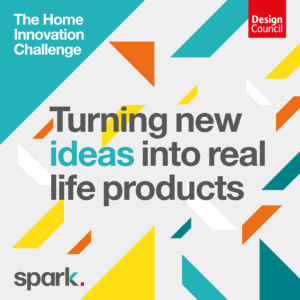 Design Council Spark is a leading UK product innovation support programme and investment fund designed to help turn bright ideas into commercially successful products. Now in its fifth year, Design Council Spark has a focus on driving home innovation, looking for product ideas that will make life at home easier and better for all.
Here at Northern Housing Consortium and Consortium Procurement, we're delighted to be supporting the Home Innovation Challenge. We've carried out a lot of research and engagement with members about the links between housing and health, and in particular housing and older people. Our work includes our research, the Hidden Costs of Poor Quality Housing in the North; roundtables exploring how the housing sector can work more closely with the health service; mental health; and roundtables and events exploring the impact of the digital switchover on housing schemes using technology enabled care.
The home should be a joy to live in, yet for many it can be a chore. In the UK there are 14 million people living with a disability, and 25% of the population are due to be over the age of 65 by 2046. Design Council Spark showcases how innovative design is fundamental to futureproofing our ability to live independently and enabling bright ideas to transform the future home for everyone.
Since its creation in 2014, Design Council Spark programme has helped more than 100 innovators and entrepreneurs to develop their product ideas, 45 of these have been intensively supported with mentoring, funding and specialist input to help them progress to market.
"Spark really helped to take us from a basic prototype to full production and a successful product launch. Two years on and Rockit has sold nearly 40,000 units worldwide."
Matt Dyson, CEO – Rockit (Finalist 2016)
Design Council Spark is looking to turn bright ideas into brilliant home improvement products transforming the experience of getting around, remembering things or doing day-to-day tasks such as:
Getting up/going to bed
Washing and bathing
Getting dressed
Cooking and eating
Working
Gardening
Cleaning
Answering the door
Sitting
Relaxing
Apply now with your bright idea.
Louise Chase, Head of Procurement at Consortium Procurement, said "Consortium Procurement has a longstanding history in supporting the technology enabled care service industry through our collaborative procurement activities. For over 20 years we have offered our members access to quality and innovative suppliers for products and services to support vulnerable and older people to live independently. We are currently in the process of refreshing our framework offer to ensure the future digital switchover and changes to the industry are reflected in our offer. With this in mind we are also engaging with our members, suppliers and wider agencies such as TSA and BT to ensure we fully understand in reflect the needs of members in our full service offer. Our partnership with the design council on their innovation competition further demonstrates our commitment to ensuring collaborative working in the TECS industry."
For further information contact solutions@consortiumprocurement.org.uk