We welcomed close to 70 delegates to Leeds for Tackling and Preventing Homelessness: The Role of the Housing Sector, delivered in partnership with Locata. With a mix of local authorities and housing providers in attendance and a great range of speakers, this event proved to be informative and insightful with lots of debate and discussion.
We opened with a welcome from Chair, Mike Wright, Strategic Lead for Homelessness at Greater Manchester Combined Authority (GMCA) who set the scene. He was followed by Anna Whalen from the DCLG on the Homelessness Reduction Act (HRACT). From her session it was clear that the HRACT (due to be implemented in April 2018) is a big game changer. Highlighting the importance of sharing innovation, she said the DCLG want an open dialogue with the sector. Key themes emerged including a greater emphasis on early intervention and prevention, partnership working, rapid intervention to ensure that a homelessness crisis is brief and doesn't occur again and support for more people to get out of homelessness and into permanent accommodation.
 "We need to move from being investigators to facilitators" she said.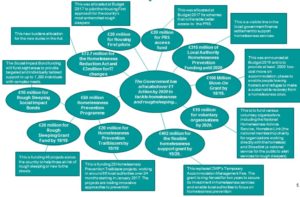 (The focus of Government on homelessness: £1 billion by 2020 to achieve these aims)
Next we heard from Chris Hancock, Head of Housing at Crisis who talked us through the history of crisis, the existing homelessness legislation and the steps taken to get to where we are now with the new HRACT. Speaking with passion he shared the opportunities and challenges for the sector. Taking us through the implications of the new 'duty to refer', he asked the questions:
"Where is your homelessness frontline?" "Where are your transition points?"

"Where does your local housing association sit with their allocations policies"
Chris also shared: Turned away – a report to examine the quality of help available to single homeless people. The report highlighted some alarming statistics and experiences from their 'mystery shoppers' on the homelessness frontline:
50 out of 87 LA visits across England were given no support.
Gatekeeping at 29 visits prevented mystery shoppers from having an interview with a Housing Advisor.
Interviews with Housing Advisors for non-priority need mystery shoppers were often brief – and characterised by a lack of privacy and empathy.
The opportunity to make a homelessness application was mentioned in just eight visits, and in only three were people notified about the outcome of their application.
.@Crisishousing working with the Cathy group of #ukhousing associations to explore role of HAs in the homelessness agenda. #nhchomelessconf

— Callum Smith (@CallumNHC) December 5, 2017
He touched on some outstanding problems around people with complex needs, issues within the code and training and support requirements for LA's. The session also looked at how non-LA agencies will take forward their 'duty to refer'. To finish Chris highlighted the learnings from the Liverpool City Region Housing First Feasibility study.
"We will not get it right first time." Mike Wright
We were delighted to hear from our chair, Mike Wright, who talked about the impact the HRACT will have on the sector and in particular, the impact to the North. He also took us through the approach Manchester (GMCA) has taken and provided insight into how LA's can start preparing.
"Is the Homelessness Reduction act a game changer? It is if you apply the act in the spirit and not the letter."
Delegates were advised to look at their lettings and allocations policies separately. "The first year will be very much a learning curve" Mike suggested "we will not get it right first time." He emphasised the need to start mapping and profiling demand and to start understanding housing markets. From a Northern perspective he suggested we need to be dealing with demand issues, asylum placements and more detailed interventions — an increased burden for some. Another key point was around the importance of the relationship between LAs and Registered Providers (RPs) suggesting we need to work with  RP's for the Housing First approach and the 'duty to refer'. He finished by emphasising the need to embed homelessness prevention across all teams and partners. This was a nice introduction into our professional practice sessions which followed the morning break.
Our Professional Practice Sessions are an opportunity for delegates to hear from other colleagues about best practice and challenges facing the sector. Delegates could choose between youth homelessness and the Accommodation Intensive Mentoring Support (AIMS) project, which shared the positive outcomes to date in tenancy sustainment and employment. We also heard from our supporter – Locata, jointly with Derbyshire Dales DC who shared their experience of implementing the new system and how this has worked for them and their residents. Finally, Threshold, part of New Charter Housing Group talked through their Housing First initiatives. The Housing First approach is based on the principles of housing as a right not a privilege, and to provide a stable, independent home and intensive personalised support to individuals.
Once again Anita and Amanda from @threshold76 delivered an insightful and engaging workshop about their #HousingFirst pilot. Get in touch if you'd like to know more about it. #NHChomelessconf pic.twitter.com/gKrlSj9JXD

— New Charter Group (@NewCharterGroup) December 5, 2017
The Professional Practice Sessions after lunch included Newcastle City Council's approach to Housing First and the partnership approach between Thirteen Housing Group and Middlesbrough City Council in tackling and preventing homelessness. Gateshead Council also shared their approach to Health and Needs Assessment and the impact of homelessness.
"We need to address our culture of blame." Fay Selvan
In a people focussed session, Fay Selvan, Chief Executive at the Big Life Group suggested "we're having the same conversations over and over again, we know what the issues are but we're not doing enough to address these".
"What choices are we making around our homelessness population" she asked, "design your scheme at the coal face". She went on to provide an insight into The Harvey Project, providing 24-hour harm reduction supported accommodation to drug and alcohol users based in North Liverpool.
"We can't dictate when people are ready to change their lives"

Fay Selvan, @NewCharterGroup Chair and CE of @BigLifeTweets #NHChomelessconf pic.twitter.com/Wvk4bNREsq

— Adam Robertshaw (@ARobertshaw_NC) December 5, 2017
From practical approaches to youth homelessness earlier in the day we went on to hear from DCLG's Steve McKinlay from the Homelessness Advice and Support Team. Here he went through the Positive Pathway approach among other initiatives tackling youth homelessness including:
youth homelessness advisers – free resource to support and advise local authorities on developing local 'pathways' for young people.
Fair Chance Fund – Social Impact Bond pilot focussing on young people most at risk of long term poor life outcomes.
National Youth Reference Group – young people with lived experience of homelessness as the experts.
To close the day we heard from Ward Hadaway's John Murray who provided a legal update summarising the changes with the new HRACT and emphasising the further duties to intervene at earlier stages to prevent homelessness. John also provided an overview of the latest homelessness decisions and Appeal Court reviews of allocation schemes.
Satty Rai, Member Engagement Manager at the NHC said:
"We could see that homelessness and preparation for the HRACT was important for our members coming out of our earlier engagement activity. We felt it was vital to bring together a mix of experts in homelessness policy alongside the practical experiences of LAs and RPs working together on a range of initiatives — one of which includes the Housing first approach. We were delighted with the level of discussion and contributions from the sector. This is clearly an area we want to continue engaging with our members and sharing good practice."
Following the conference the NHC responded to the consultation on the Homelessness Code of Guidance. You can see our response here.
Insightful day at the @nhc #NHCHomelessConf on the housing industry's role in tackling and preventing homelessness. Spotlight on implications of the Homelessness Reduction Act & some innovative case studies with effective results to learn from.

— Stacey Marie Dove (@StaceyMDove) December 5, 2017
In terms of next steps the NHC are organising a member roundtable alongside Crisis – Improving Access to Social Housing for Single Homeless People, looking at single homeless people and the role of the sector in addressing a lack of access to social housing. We are also looking to run a homelessness working group which will bring members together to share learning, experiences and best practice and different approaches. Look out for another Homelessness conference next year too.