The Northern Housing Summit 2019
Date:
5 November 2019
Time:
All day
Venue:
Renaissance Manchester City Centre Hotel
Blackfriars Street
Manchester
M3 2EQ
Add to calendar
Join us in Manchester this year for our flagship annual Northern Housing Summit on the 5th November. Bringing together leaders from our unique membership of registered providers, ALMOs and local authorities, we'll discuss and debate the challenges and solutions to shape the future of housing in the North.
The new government has brought a renewed focus on the North. But long before Boris Johnson talked of his desire to 'level up' the regions, we together have shown the North to be a place of ambition, innovation, and inclusion.
This year the Northern Housing Consortium launched #OurNorth, a celebration of the role local authorities and housing associations play in creating the communities in which 15 million people live. But #OurNorth is not just about highlighting the great work already taking place, it is also about identifying and arguing for the changes that would enable us to go further.

We are offering each of our full member organisations (LA's RP's & ALMOS) a free delegate place.
We've emailed free-place codes to key contacts, please let us know if you haven't received yours.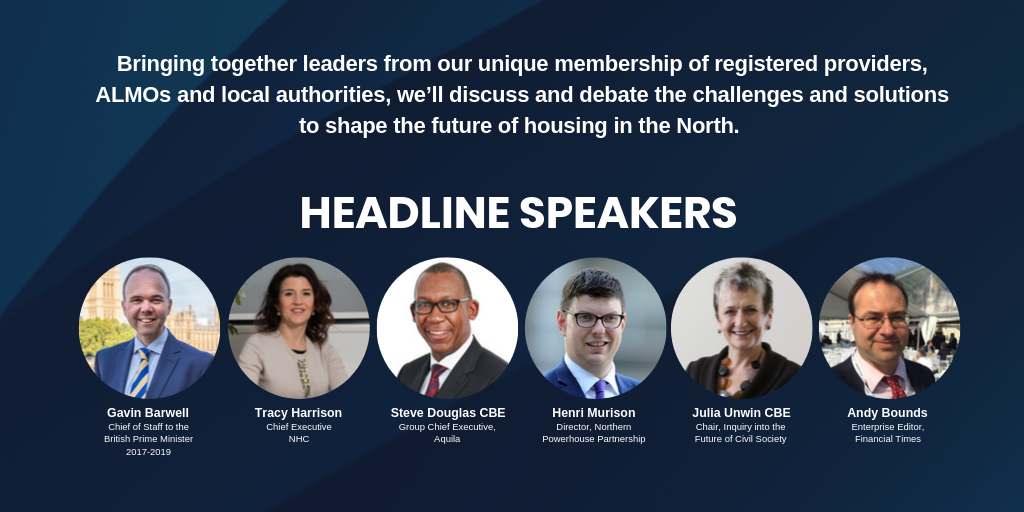 Book your place
Please note: All prices are exclusive of VAT.
Please note: if you attended an NHC event before 28th March 2015 you will need to re-register due to an upgrade of our systems. Simply fill in the booking information to the left and an account will be created for you along with placing your order. You will be emailed with a username and password. Please read our FAQs for more information.