Background and business case
The prominent site, just off Yarm Road was originally home to a sheltered housing scheme, which was decanted and demolished by Thirteen over five years ago.
Thirteen Group have delivered Trinity View in partnership with Engie who built the properties, supported by funding from Homes England. Other partners involved include P+HS architects and Identity consult.
The development is home to seven bungalows that are all energy efficient and include some integrated kitchen appliances, a wet room, external doors with level access and either a drive or off-street parking.
They are all built around a beautiful landscaped courtyard.
Partners involved
Engie
Architect – P+HS
Employers agent – Identity Consult
Programme Costs
Total scheme costs: £1.1 million
Value of Affordable Homes Programme support for scheme: £280,000 (£40k per unit)
Scheme size – 7 Shared Ownership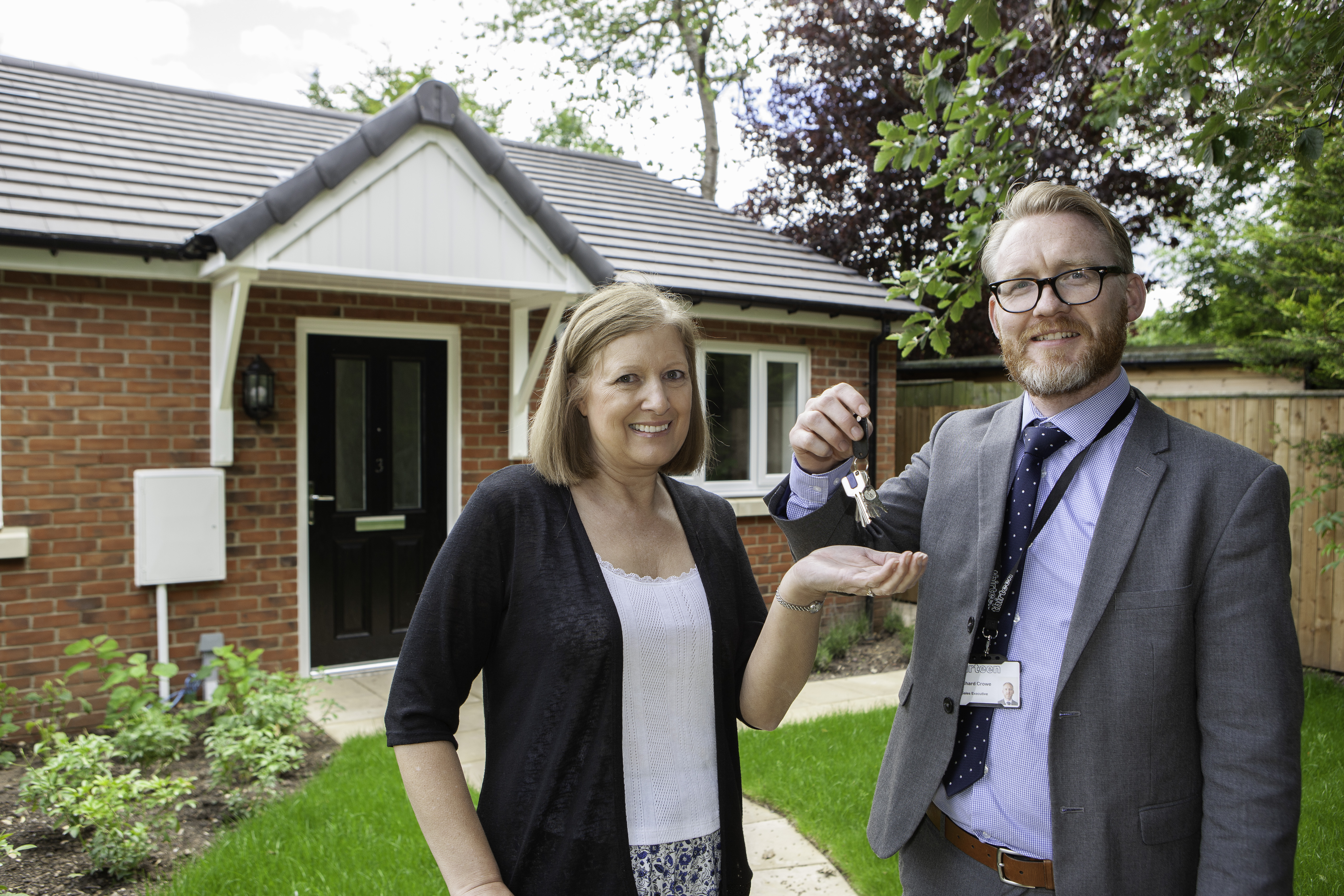 Outcomes
We've been overwhelmed by the demand we've received for these new homes and we're proud to have worked with our partners to deliver such a fantastic scheme.
All seven bungalows were sold very quickly and off plan as part of our over 55s Buyin Part with Shared Ownership scheme.
Joanne Latus – Trinity View Resident
Joanne has recently moved into a beautiful two-bedroom bungalow at Trinity View, just off Yarm Road. Joanne had been renting a ground floor apartment since moving from Hartburn last year, but she's absolutely delighted she's been able to buy part of her new home through the scheme.
Joanne said:"Back in January I was driving along Yarm Road and I noticed some signage promoting the new bungalows. From that moment I knew it was somewhere I'd love to live. I rang Thirteen for more information and it's been a whirlwind ever since.
"Richard and Sue from the sales team at Thirteen have been great all the way through the process and made it really easy for me. I would have really struggled to afford such a beautiful home without help from shared ownership, and I'd definitely recommend the scheme and Thirteen to family and friends.
"The house is absolutely beautiful and I'm really excited to make it my home. It's so close to Pres-ton Park, somewhere I've always loved visiting and it feels unbelievable that I now live so close.
"Everything has been finished to such a high standard and as I have some mobility issues, I love that they've included features, as standard, that will help make my life easier.
"My family think it's amazing and I'm really looking forward to showing off my new home when everything is in."
Sharon Thomas, Thirteen's director of new home delivery
"These much-needed affordable new bungalows offer lifelong, purpose built, easily adaptable and energy efficient homes for customers and they've appealed to those who have been looking to plan for older age or move out of the family home, as it's too large and expensive to run.
"We really feel that the properties at Trinity View will offer their new residents a home that will al-low them to enjoy and get the most out of life."
Helen Fielding, Senior Specialist for Home Ownership and Supply at Homes England
"Homes England is committed to helping more people access better homes in the areas where they're most needed.
"We're pleased to have supported the development at Trinity View which will offer older people in Eaglescliffe purpose-built accommodation close to the heart of their community."