Background and business case
Bower Brook Gardens Phase 2 is the second phase of the large joint project in the Halton View area of Widnes between project partners Open Door (Halton Housing's Commercial Subsidiary), Halton Housing and Russell Homes and will provide 118 2 and 3 bedroom new build semi-detached homes across a range of tenures.
There will be 20 homes for sale, 16 homes for Shared Ownership, 15 homes available on a Rent to Buy basis, and 18 homes for private rent, providing much needed affordable homes in this area. It is thanks to significant funding through Homes England Affordable Homes Programme that we've been able to realise our ambitions for this scheme and respond to local housing demand for affordable housing within the Widnes area.
There has been significant growth in the area over recent years as homebuyers struggle to afford properties in nearby cities Liverpool and Manchester and even neighbouring town, Warrington.
The first phase of the development, which was completed in summer 2018 was also a mixed tenure scheme and proved to be incredibly popular with all homebuyers.
The site of Bower Brook Gardens 2 is located in the Warrington Road area of Widnes and has an industrial heritage, like much of this area of Widnes. The development is located on a 7.2 acre formerly derelict piece of land in Widnes and, with the already significant investment in this area through phase 1 of the development and Waterfront View (Halton Housing's first ever shared ownership scheme) we are transforming this once derelict area into a new and thriving community in this area of Widnes.
The development is conveniently located near motorway links and a town centre, meaning this development is very accessible for residents.
This development provides flexibility for customers, with shares available for purchase ranging from 25% to 75%, depending on affordability and other eligibility criteria. Help to Buy is also available at this development.
These options make the process of buying a new home possible to those on lower incomes, those with low deposits, or those who have experienced a change in their circumstances.
The first homes were completed on this development in summer 2019.
Partners involved
Homes England
Halton Borough Council
Commercial developer
Programme Costs
Total scheme costs: £9,702,688
Value of Affordable Homes Programme support for scheme: £972,857
Scheme size – 69 units
[31] Shared Ownership
[20] Outright sale by housing association
[18] Other (18 Deferred Sale & 15 Rent to Buy)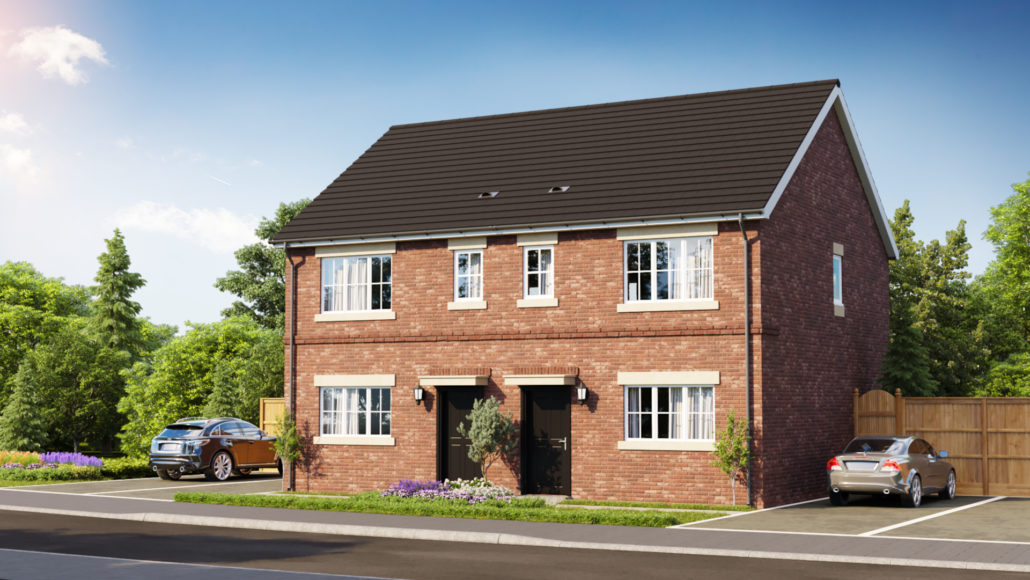 Outcomes
Halton Housing has been working with the developer on an adjoining site over the last five years which has provided a scheme of mainly affordable rented homes, 10 PRS homes and 10 Shared Ownership Houses, as well as our new head office, Waterfront Point.
In addition to this, Russell Homes, the developer, provided a further 43 homes for outright sales. This successful partnership meant that when this adjacent site became available, the Partners where able to quickly take advantage of this opportunity which has seen the site split between both partners, enabling both to benefit from the economies of developing a large scale while sharing the risks.
Through the support of Homes England funding, Halton Housing has been able to bring this development forward offering a genuinely mixed tenure scheme, providing four different tenures and therefore, offering four different customer groups the opportunity to obtain a new home. Without this funding the opportunities to develop this development would have been most more limited, leading to a far less inclusive housing delivery.
Lessons learnt
Involving and engaging different parts of the organisation as early as possible to ensure engagement and feedback, for example, meeting with Property Services helped us agree a specification with the contractor that would help with more efficient maintenance of these homes. This will not only help the business with reduced call outs, but also ensure new technologies are included in our developments where possible.
Each tenure needs to be designed and specified to take account of both the needs of customers and Halton Housing. It is therefore critical that the differences in these tenures are clearly set in the early design stages.
The scheme is being developed through a standard JCT construction contract, which means the phasing of hand over of the completed sale properties can negative impact on the sales. This process is critical and equally challenging and therefore the developer / contractor needs to have a clear understanding of requirements and wherever possible these are clearly defined within the contract.
"Halton Housing has an ambitious growth and development programme, our aim is to build and acquire over 1000 homes by 2024. The investment in this development through Homes England's Affordable Homes Programme, at a time when there is a significant national housing shortage, allows us to make a real difference to the provision of much needed high quality and genuinely affordable homes in this area".

Paul Mullane, Director of Development & Growth, Halton Housing
Future plans
Halton Housing continues to identify the development of good quality, new build homes as key strategic objective of business, which is clearly set out within Our Direction 3. We see that the development of true mixed tenure schemes, both on our own and in Partnership with other RP's and Developers, is a great way of providing new homes to the widest possible group of customers. This approach also reduces the stigmatisation of the social housing, by ensuring a more inclusive community.
We continue to deliver against our ambitious development programme to build and acquire 1000 additional new homes for rent, sale and shared ownership over the next 5 years. Currently we have a number of sites in the pipeline, including a 100 apartment Extra Care scheme providing the opportunity for customers to both purchase through Shared Ownership and rent through Affordable Rent.
For more information visit