A visit to the Jubilee Fields Estate with Livin and local MPs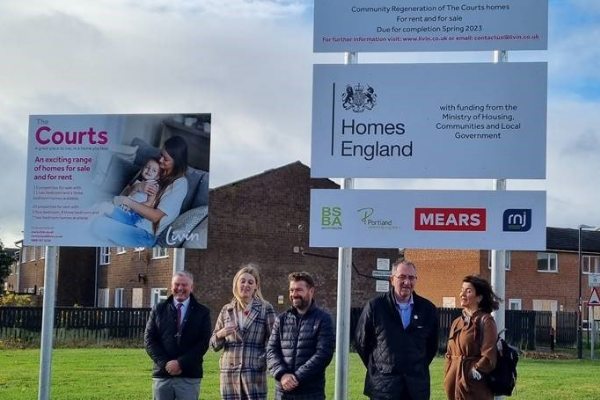 Earlier this month NHC's Tracy Harrison and Brian Robson joined Chief Executive at Livin Alan Boddy and his team to meet with local MPs Paul Howell (Sedgefield) and Dehenna Davison (Bishop Auckland) at Livin's Jubilee Fields Estate in Shildon, County Durham.
The purpose of the visit was to provide the local MPs with an overview of placemaking and decarbonisation plans at the Jubilee Fields Estate and demonstrate the links between Livin's place making and the Government's Levelling Up agendas.
The Jubilee Fields Estate scheme is providing £9 million of physical regeneration, attracting £735,000 of Homes England Funding. It is part of Livin's placemaking approach, which brings together the local community, partners and stakeholders to address estate wide issues through a range of interventions including: physical changes to houses, environmental improvements, community cohesion activities, employability support, money advice, and sustainability measures. These homes will be made more energy efficient and economical to heat and will make a positive contribution to Livin's target to achieve net zero in its operations by 2050.
Through extensive engagement with tenants, residents, owners, private landlords and stakeholders, designs have been agreed that transform the appearance of the area including: introducing private garden spaces; providing allocated parking; converting unwanted flats into spacious family homes; and creating an improved estate layout.
The local MPs heard about Livin's extensive community development activity, partnership working and business planning as part of the scheme.
Livin contributed to, and helped sponsor, the recently launched 'No Place Left Behind' report produced by the Create Streets Foundation which is strongly urging the Government to consider the bottom up approach of empowering communities and placemaking alongside the 'top down' approach of investing in capital infrastructure and decarbonisation within the Levelling Up programme.  The report makes several recommendations to the Government, including recommending housing regeneration and decarbonisation support which ties in with Livin's 'stronger communities' ethos especially concerning neighbourhood regeneration and the retrofit decarbonisation agendas.
The visit included a tour of The Courts, Maple and Firtree estate and the Chestnut Close Communal Lounge, participants learnt about the different plans for each area and the levels of support being provided to the community.
Commenting, Dehenna Davison MP said "A huge thank you to the Livin team for having Paul Howell MP and me in Shildon to see their placemaking plans for the upcoming regeneration at The Courts. This is a really exciting regeneration project and I can't wait to come back next year to see the work in progress."
The NHC is keen to work with members to demonstrate the contribution housing in the North is making to levelling-up and net zero. If you would like the NHC's support with a visit or meeting, please contact Anna Seddon (Policy and Public Affairs Officer) at anna.seddon@northern-consortium.org.uk.