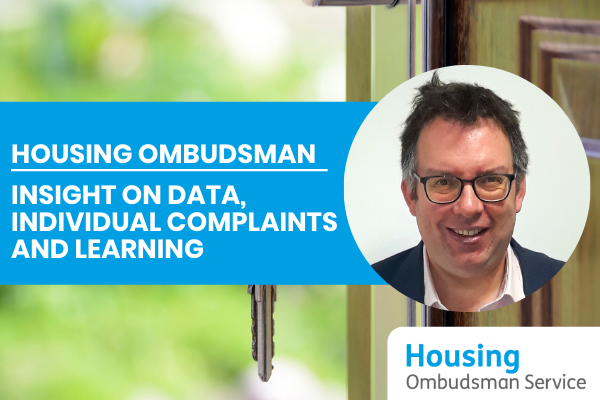 Guest blog by Richard Blakeway, Housing Ombudsman
It is critical for the Ombudsman, as well as resolving individual disputes, to share the insight and learning from our casework to improve services across the sector.
We do this in several ways already – from training through to reports focusing on a specific issue – and will be doing more during this year. In January we published the first in a new series of quarterly Insight reports. It is the start in providing more frequent data on our complaints as well as drawing on a selection of cases that illustrate the range of our work and to share knowledge and insight that we believe will help landlords improve their complaint handling and housing services.
Focused on the first six months of 2019-20, issue 1 of the Insight report shows that complaints about repairs was the biggest category of complaint, accounting for 29% of the 4,724 complaints received. This is consistent with previous years which is why we focused on repairs complaints as the subject of our first Spotlight report published last year. Take a look at it on the website, if you haven't seen it already. It identifies the most common causes of complaints about repairs and good practice points to help landlords avoid them.
The five cases summarised in the Insight Report are very powerful. They vary from one incident where we found no fault in the way an ALMO had responded to a complaint about damp and mould in a resident's home to a group complaint from 29 residents in supported accommodation for the elderly with a finding of severe maladministration. In the latter case, the housing association withdrew daily support visits for elderly residents without consultation, despite contractual commitments. We ordered a formal apology and compensation between £250-500 for each resident depending on their tenancy agreement.
From the five case studies, we've highlighted some wider lessons for the sector. Some concern policies and processes, including fulfilling policy commitments, while others are more focused on culture and behaviour, such as taking responsibility for complaints and for resolving the issue. A good procedure and well-trained staff will achieve results, but for maximum impact a positive complaints culture is essential.
In 2020-21 we plan to publish the Insight report on a quarterly basis and further expand our activities to promote positive change in the sector.
We hope the reports will be a useful resource for landlords. We would appreciate your feedback on the report including any other information you would like to see in future issues. See the report on our website for details on how to do this.