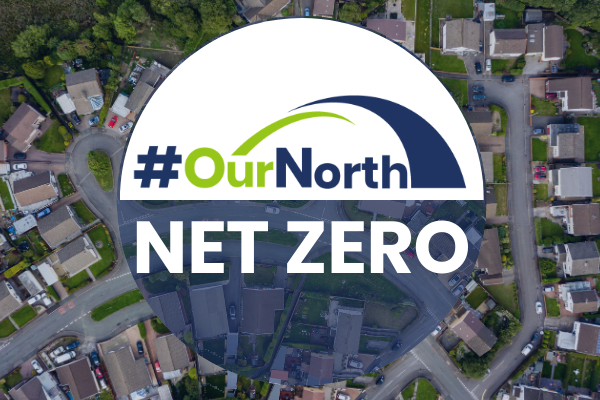 Decarbonising the North of England's existing housing stock will be central to the UK's climate ambitions, with figures from 2017 showing that 26% of all carbon emissions across the northern regions are from our existing homes. Work is under way, Local Authorities across the North have declared climate emergencies and Housing associations and ALMOs have made ambitious commitments to decarbonise their homes.
The message from NHC members is clear – it's not about if we do this, it's about how we do it.
The Northern Housing Consortium are launching the Our North Net Zero campaign to address this, putting together a series of opportunities for members to stay informed on the wider climate agenda and confident to lead on making decarbonisation a reality across the North of England. The work programme will culminate in our flagship Northern Housing Summit on 3rd November where Lord Deben, Chairman of the Committee on Climate Change, has agreed to speak.
Our first webinar is on the 13th July at 13.00 – we're delighted to confirm that we will be joined by Jamie Driscoll, Mayor of the North of Tyne, to give a keynote address. Jamie declared a Climate Emergency on his first day as the elected Mayor of the North of Tyne and in the time since has lead the Combined Authority in placing strong emphasis on an inclusive approach to the climate agenda.
With further speakers to be announced soon, we encourage all our members working on the climate / decarbonization agenda to join us to:
Be informed on how national, regional, and local governments are putting Net-Zero plans in place – and bringing communities on board.
Hear from a panel of Northern Housing Consortium members on how they see the challenges and opportunities of the decarbonisation agenda.
Learn how the Northern Housing Consortium plans to support you – with an events and networking programme to build the connections and knowledge needed to upgrade your homes, as well as our influencing plans which will make the case to Government on the central role the sector will play moving forward.
Our contribution will be key to Government's priorities on reaching Net Zero and levelling-up. We hope you can join us in July to advance this incredibly important work.
To book your place at our free member webinar on the 13th July please follow this link:
https://www.mynhc.org.uk/event/general?id=Our_North_Net_Zero3372080513
Any questions, or to share your views on which aspects of the climate agenda the NHC should cover in it's events program please email Liam Gregson, Senior Member Engagement Officer – liam.gregson@nhc.org.uk