Unlocking Success Bursary Scheme awards 36 tenants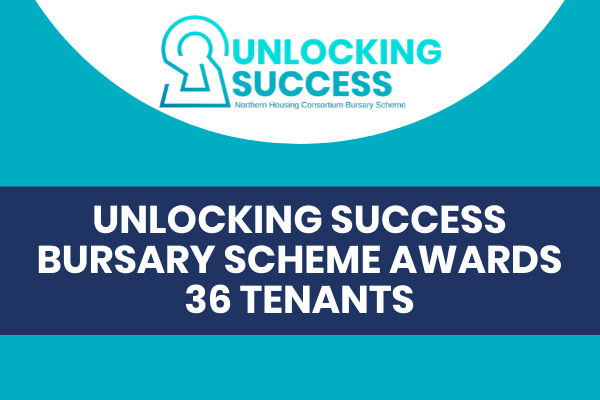 The first round of funding for the Unlocking Success Bursary Scheme has been awarded to tenants from member organisations across the North. The scheme is funded through the NHC's Charitable Trust and helps tenants across the North develop learning and skills to support future employment.
The applications received covered a vast array of support requests from course fees, laptops, tools and equipment and driving lessons towards re-training as a long-distance lorry driver, to buying a shed for a tenant with Autism Spectrum Disorder to enable completion of a silversmiths course.
One application was from the wife of an army veteran who, following a long rehabilitation from a head injury, had set up a voluntary organisation providing rapid response support for families in the armed forces offering a helpline, food parcels and even therapy from the qualified mental health team. The bursary will be used to help fund her own study towards a qualification in being able to provide counselling services for the organisation. Another application was from a tenant who was previously homeless who has gained a college course placement to study aviation operations and was only part funded by a government loan.
Another application was from a tenant who had joined his tenants and residents' association during recovery from a serious accident which had led on to him being elected as an independent councillor in his parish. The tenant was subsequently elected Chair and has also taken on an unpaid Clerk role vacancy, the bursary will be put towards funding the study and books for a Certificate level qualification (CiLCA) which is required in order to be employed as a qualified Clerk/Responsible Finance Officer and support the community in which he lives.
In this round of applications the bursary scheme had originally planned to award 20 bursaries of £500 each, however, given the coronavirus situation making the judging process difficult, it was decided to give the bursary to all of the 36 tenants that met the priority-need criteria and who weren't receiving any other employer-paid training, but awarded at a slightly lower amount of £300 rather than £500 to make this affordable around the level of the original planned funding.
The deadline for the next round of application submissions is September. You can find out more on the website.