Wellbeing series with Mental Health in Business: training and support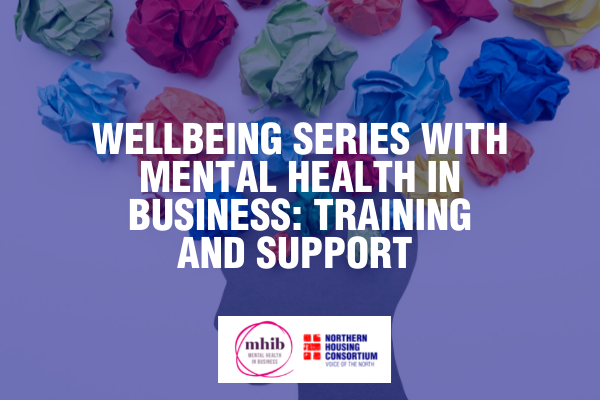 We've partnered with Mental Health in Business (MHIB) to offer reduced-price training for NHC members.  
The team at MHIB have many years' experience working within the mental health and wellbeing fields, including qualified mental health first aiders, clarity™ certified coaches and Samaritan listeners. Committed to supporting businesses in promoting, improving and raising awareness of the importance of mental health in the workplace, MHIB are offering three workshops at a reduced rate for NHC members. 
A number of factors contribute to a person experiencing good mental health and well-being from day to day. Being calm and clear-headed at work are signs of good mental health; which result in good performance, job satisfaction and a happier workforce.  
But what happens if employees are experiencing the opposite of calmness and clarity?  
This can be a sign that employees are experiencing high levels of stress, anxiety and overwhelm which if left unchecked (and unsupported) could result in serious ill-health, poor performance, and sickness absence. 
Individuals attending this workshop will learn about some of the the triggers of anxiety, how to manage feelings of anxiety and improve overall well-being. 
Resilience is fundamental to good mental health and well-being, and success in business/work and life. Resilience is something that can be developed and is a major protective factor against mental ill-health.  
This 2-hour workshop will explore how we can all develop resilience in ourselves and in our teams. This will include practical advice and tools to help you to build your own resilience, including how to set appropriate boundaries.  
The session will involve interactive discussions and group exercises which are specially designed to ensure effective learning in a short timeframe within an online environment. 
Since early 2020, we have collectively been living through an extraordinarily stressful time – most people have been coping with unforeseen change and challenges, uncertainty, anxiety and worry.  
Many people have had their businesses hugely impacted by the coronavirus pandemic, many have lost their jobs, been adapting to working at home, coping with isolation and home-schooling children who may themselves be struggling emotionally. Sadly, many people have been bereaved during the pandemic and, like many people with existing physical or mental health conditions – may not have been able to access the support needed. 
We all experience stress to some degree – some might say that some stress is healthy or helpful, because it motivates us and keeps us moving. However – there is considerable evidence that suggests that high levels of persistent stress at work can lead to mental ill-health and contribute to serious physical ill-health or even burnout. 
This powerful workshop will help attendees to manage stress better and avoid burnout. 
Sessions can be delivered online or in person for a reduced rate of £846 + VAT – this is a saving of over £600 on standard prices, for bookings made before 31st December 2021. 
For more information, contact NHCmember@mhib.co.uk