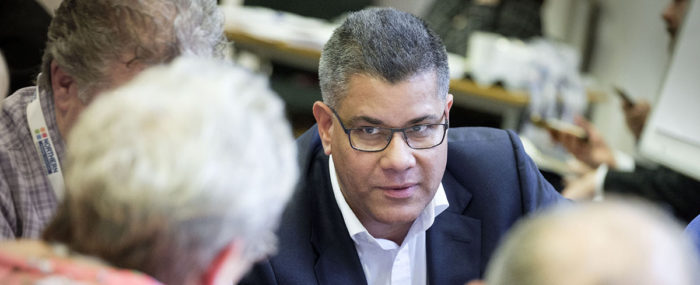 On 26th October, the Northern Housing Consortium facilitated landlord and tenant engagement sessions with Alok Sharma, Minister of State for Housing and Planning, alongside colleagues from the Department for Communities and Local Government (DCLG).
Representatives from around 30 NHC members attended the meeting for landlords, and the tenant engagement event attracted more than 80 residents from a cross section of providers in the North East and Yorkshire and Humber. A separate North West event was hosted by Community Gateway Association in Preston.  The Minister was fully involved in the lively and well received session, both addressing and sitting with tenants to listen to their concerns and ideas. At the start of the session, NHC Deputy Chief Executive Tracy Harrison described this as a "golden opportunity to make your voice heard" which the Minister agreed with, encouraging the audience to be as frank as possible.
Discussions between tenants and the Minister covered a wide variety of topics including tenant voice, funding and investment, quality of stock and recognition of local issues. At the end of the session, Mr Sharma promised to write to each of the attendees in person and told them their comments, views and ideas would be used to shape the upcoming  Social Housing Green Paper, "setting out what we've learned [from the sessions] and what needs to change."
"At the end of my time as Housing Minister, I want to feel that I've done my part to get fairness back into the social housing system" Mr Sharma said while also mentioning a desire to "invest in modular housing similar to those made in Germany and Scandinavia" and the importance of incentivising private landlords to provide longer tenancies.
Commenting on the event, Tracy Harrison said "The NHC was delighted to facilitate this event with the Minister and his team at DCLG. The event presented our members and their residents with a real opportunity to discuss how they feel about where they live, and how services are provided to them by their landlord. I was particularly encouraged by the acknowledgement that local decision making can play a part in reconnecting isolated or fragmented communities — these are issues we know are key to our members — and we look forward to seeing how this shapes the Social Housing Green Paper next year."