On Wednesday, 1st November, the Northern Housing Consortium welcomed close to 150 delegates to its Northern Housing Summit in The Renaissance Hotel in Manchester. Titled Innovate North, this year's Summit focused on some truly cutting edge ideas presented by industry experts and specialists from outside of the housing sector. From the rise of artificial intelligence (AI) and robotics to how housing can learn from FinTech and predictive analysis, the list of high-concept topics was extensive. This was not science fiction however, this was an examination of what the sector looks like now and what it could be in the near future. Adactus Housing Group's Deputy Chief Executive Brian Moran quoted William Gibson in his presentation:
"The future is already here – just not evenly distributed."
After Chair Tom Miskell's introduction, the day's plenary sessions opened with Sebastien Van Laere of The Future Laboratory discussing the idea of a dislocated North and the human toll of ever-evolving technological advances. In the disconcerting first half of his presentation, Sebastien imagined a future where technology fuels inequality, before discussing how collaborative approaches between industries can help counteract the UK's culture of distrust.
The conversation moved further out-of-sector for the next session as Whitecap Consulting's Stefan Haase talked about FinTech (the application of technology to improve financial products and services) and how it can help change the way organisations operate. Some of the key developments attributed to FinTech are chatbots, machine learning and AI advisers. Happily, Stefan told delegates that Leeds and Manchester are the biggest developers of FinTech outside London. Paul Taylor, of the Bromford Innovation Lab, followed with a primer on BlockChain payments – a difficult concept to get one's head around but one that could see a huge change in the way housing organisations are buying and selling. Paul argued that tenants don't want to use dedicated portals but they are already heavy users of messaging apps, so why not arrange for tenants to make payments through messaging services? "How do we put finance teams at the front of the bus?" asked Paul, "because that's where they need to be for the future".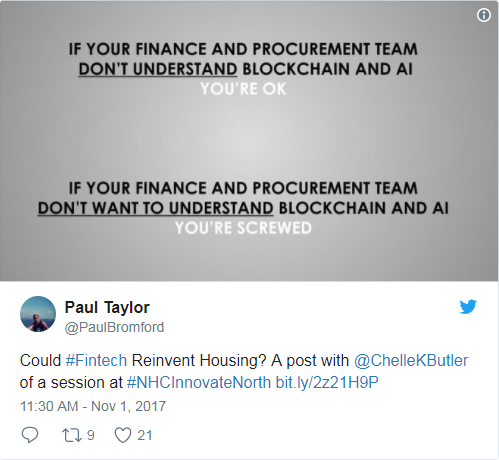 We were also delighted to welcome The Homes and Communities Agency's (HCA) Deputy Chief Executive Tom Walker to the final pre-lunch session to talk on the subject of investing in innovation. In a passionate presentation, Tom Walker called housing the top domestic priority for this government and insisted that the work the HCA is doing will be central to the 22nd November budget.
In the 'New Models of Delivery' session, Maggie Gjessing, Head of Housing Growth at Leeds City Council, outlined the innovative approaches Leeds is taking to deliver new homes, including an ambitious East Leeds extension that will add around 5,000 new homes to the area. She also spoke about the 'asks' from the Government, particularly around increased head room in borrowing limits to further deliver new homes. Also speaking was Steve Matthews from heylo housing who talked about heylo's model of delivering new units of affordable housing through a unique partnership with the West Lancashire Pension Fund.
In the 'Young People and Housing' stream, there was a short presentation by Youth Focus North West which opened into a discussion about how to harness the talent, enthusiasm and skills of young people. There was a lot of discussion about what registered providers (RPs) can offer, particularly in regard to employment and skills opportunities, but also more widely without being tied to a formal apprenticeship or training programme. It was agreed that RPs do a lot to engage their younger tenants but there was frustration that a need to reach all young tenants could sometimes be complicated by factors such as ambivalence and disinterest from young people in getting involved.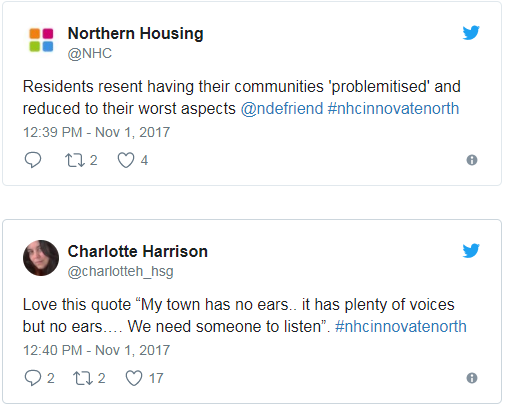 From the vantage point of his position as Director of Housing at Manchester City Council and a housing specialist working with the Greater Manchester Combined Authority, Paul Beardmore updated delegates on how devolution was helping to support innovation and inclusivity. Describing the benefits of devolution as a "prize too big to not get right", Paul discussed the "generational change" that would be seen across Greater Manchester.  This included the Town Centre Challenge aiming to give a new purpose to Manchester's surrounding towns in the face of the declining percentage of retail space being taken up by shops. Given that these areas were also focal points of public transport, the opportunity was present to develop new housing markets instead. The hope was that this "sea change in the role of the town centre" would not just help address housing need but also act as a catalyst for the kind of partnership working that will drive innovation in design, green infrastructure, and sustainability.

Grant Shipway, PwC's Digital Transformation Consultant, and Brian Moran, the Group Deputy Chief Executive of Adactus Housing Group, gave delegates equal doses of fear and wonder with their Rise of the Robots session. Both challenged the audience to imagine the impact AI and robot-driven technological advances will have on aspects of everyday life. Discussing how driverless cars will affect airports more than motorways offered food for thought, as did the revelation that 46% of consumers fear robots will take their jobs away, and the fact that a workforce made up of two humans and 200 robots would equal the work of 600 full-time employees. These were sobering thoughts to mull over as Brain Moran played the audience music composed by the first AI to be recognised as an official artist.
Organisations are exploring the link between health and housing more than ever before. Housing Association Charitable Trust (HACT) and North East Local Enterprise Partnership took to the stage in the afternoon to examine the opportunities both sectors have to grow and work in partnership with each other. Preventing this collaboration to some extent is negative media coverage. Speaking for HACT, Drew Van Doorn pointed out that, despite most people having a positive image and positive experiences of the NHS, most newspapers have a dedicated week set aside every year to run 'NHS in crisis' headlines. Such hurdles are unhelpful when there is so much health and housing can learn from each other. They key message from this session was to listen to each other and if the housing sector really wants to engage with the health sector, then we should "go where they are", attend the same events and talk to them there. "Time to co-create" declared the final presentation slide, "you get the best of innovation and the best outcomes when sectors work together."
Innovate North also saw the official launch of the NHC's new Business Improvement Services. At a dedicated stand in the exhibition area, the NHC unveiled the service and detailed how we can help our members through specialist expertise provided directly by the NHC and by our high-quality associates and experts. You can find more information on Business Improvement Services on the NHC website along with details on the member offers we provide in conjunction with Comparex, EY, Retinue Housing, and Ward Hadaway.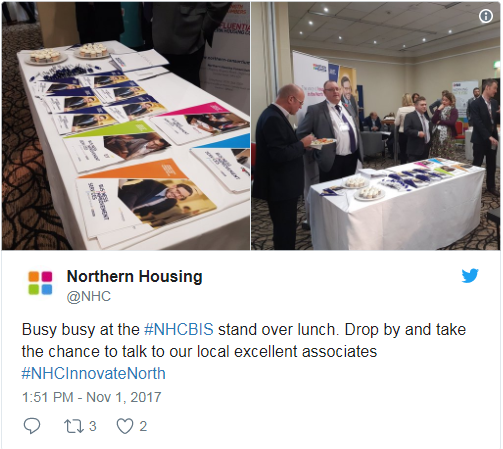 Delegates came together again in the main conference room to witness a head-to-head between CityMetric's Jonn Elledge and Richard Wellings of the Institute of Economic Affairs over the question, 'Can the North build a successful future – and what role for housing?' Richard Wellings was concerned about areas in the North trying to copy London to achieve success for itself when it should be "playing to its strengths" – its attractive lifestyle and cost of living. Jonn Elledge considers the UK "ludicrously over-centralised" leading to a perception that we are more economically successful than we actually are. "I've heard the UK economy described as Portugal with Singapore in one corner" he said.
"It doesn't feel like the solutions to the housing crisis and the jobs crisis should be beyond our grasp", Jonn stated in a line that resonated with the audience. Judging by the fascinating and wide-ranging discussions arising from the day, we certainly do not lack the ideas, the brainpower or the will to find those solutions.
A selection of photos from the event