Are you making the most of our member networks?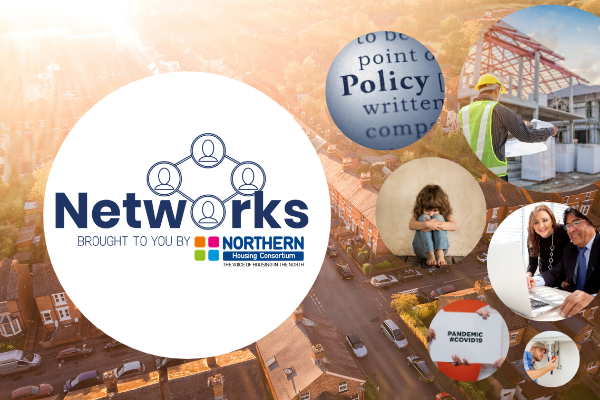 Our members are at the heart of everything we say and do. We pride ourselves on our ability to bring people together to share best practice, networking opportunities and expert insight from inside and outside of the sector. Last year we engaged with 100% of our member organisations from across the North East, North West and Yorkshire and Humber through meetings, events and through our series of regular networks.
These networks are free to attend and are member-invite only which allows for a safe environment to network, share best practice and discuss challenges and emerging sector issues. Each network focuses on a specific housing-related topic for example: homelessness, voids and lettings and repairs and maintenance or on a specific role such as policy, communications, executive assistant or procurement. With 17 different networks to choose from we hope to offer something for everyone.
Look through our list below and sign up!
North East Policy Network – this network is an opportunity for North East members, working across the business in areas from Policy & Strategy through to Housing Management and resident involvement, to connect together to share learning and updates.
North East Child Poverty Network – this network is open to North East members working in areas of poverty, social inclusion, financial inclusion and health and wellbeing in supporting their local communities and customers around mitigating the impact of poverty and financial hardship.
Yorkshire & Humber Policy Network – this network is an opportunity for members from the Yorkshire & Humber region to connect together to share learning and updates, these include those working across the business in areas from Policy & Strategy through to Housing Management and resident involvement.
Northern Homelessness Network – this network is open to all NHC members working in the fields of lettings, allocations, homelessness and supporting tenants and residents, to come together to discuss different aspects of tackling homelessness and elements of the HRACT, as well as hearing the latest policy updates, sharing learning and good practice.
EA (Executive Assistants) Network – this newly formed network is open to all Executive Assistants working in NHC member organisations, and provides EA's the opportunity to connect and network, share learning and update your skills, knowledge and personal development.
BAME Network – this newly formed network is open to all NHC members working and providing housing services to the BAME community, the network provides the opportunity for colleagues to connect with others in like-minded organisations, to discuss BAME housing needs, barriers and opportunities and share learning and good practice.
Northern Youth Network –  this network in partnership with Clarion Housing is open to all Northern NHC members and provides the opportunity for all those working with children, young people and communities with the shared aim to provide quality services for young people within housing associations, local authorities and their communities to come together to share learning.
Voids and Lettings Network – this network is open to all NHC members working in the fields of lettings, and allocations, along with void repairs managers. All steps in the process are covered from termination of a tenancy to its subsequent relet and post relet support. Its aim is to allow members to discuss operations and the best practice available to reduce relet time, while creating sustainable lettings.
Repairs and Maintenance Network – this network has been recently formed following the challenges created by the Coronavirus outbreak. Members of the group are Managers and Directors responsible for the delivery of Repairs and Maintenance services covering responsive, day to day repairs, void repairs and compliance work. The network provides the opportunity to share and learn what others are doing in these challenging times.
Post Covid-19 network – This newly formed network will provide a forum to consider, discuss and exchange views and information on a range of issues in relation to the governance of the social housing sector and the wider operating environment. In the first instance, matters arising from the change of the strategic and operating environment caused by Covid-19 will be discussed.
RSH/NHC bilateral – This quarterly meeting is a joint discussion between the Regulator of Social Housing and the Northern Housing Consortium and representatives of its member organisations. Its purpose is to act as a forum for the mutual exchange of information and views on issues within the remit of the RSH and where this relates to the wider housing sector and to discuss relevant information including the work of the RSH, national policy developments and best practice amongst housing providers
VFM and regulation network – this network is used to disseminate information and developments in the world of Housing Regulation. It is attended by NHC members who work in Regulation, Finance and Performance and is a useful tool for members in confirming approaches being taken and in sharing recent experiences around regulatory engagement and In-Depth Assessment.
Procurement roundtables – our Procurement Roundtables are informal networks of procurement professionals who come together to collaborate, learn from each other and share best practice. They are designed to provide a forum for procurement professionals from our membership to meet, help shape our framework development plan, discuss current and emerging procurement issues, and explore opportunities for mutual working.
Communications in housing roundtables – These events take place bi-annually and offer an opportunity for communications teams within the NHC membership to come together to network, share best practice and to hear from experts in the field of communications and marketing. Topics are led by the members and have included evaluation and measurement, internal communications, digital transformation and much more.  The next meeting will take place virtually in July.
Safety in Neighbourhoods Network – Northern Housing Consortium's Safety in Neighbourhoods Network is a free member forum to discuss all aspects of community safety and neighbourhood management. Members hear from expert speakers, share good practice, and discuss sector challenges in an open environment. Meetings are attended by legal professionals at Ward Hadaway who provide legal updates and feed into discussions.
NHC Disrepair Working Group – Run in partnership with Ward Hadaway, the NHC Disrepair Working Group was formed in response to the introduction of the Homes (Fitness for Human Habitation) Act. The Working Group provides a forum for NHC members to discuss the new working environment the Act has placed on their housing and asset management strategies in managing the expected upsurge in disrepair claims by tenants brought under conditional fee agreements.
Shared Ownership and Leasehold Network – This network is open to all NHC members working in the fields of shared ownership and leasehold. With input from Ward Hadaway, meetings cover day-to-day challenges around service charges, compliance, tenancy agreement, marketing information, administrative charges and arrears.
Email us to sign up to any of the networks above.