Heat and Buildings Strategy Published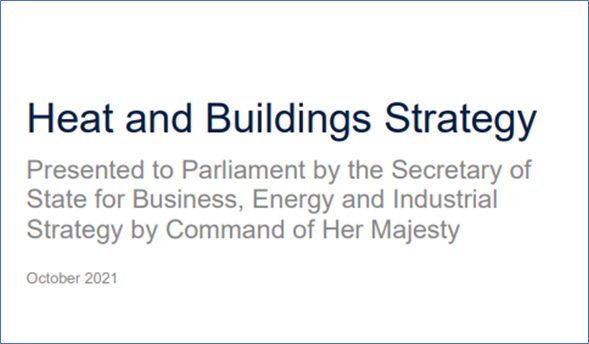 The Heat and Buildings Strategy has finally been published and will have wide-reaching implications for households, landlords and councils.
The package of measures in the strategy amounts to a £3.9bn from Government, of which £450m will be spent on grants subsidising the upfront cost of heat pumps for homes. £800 million has been pledged for the Social Housing Decarbonisation Fund over the next 3 years, with a further £950m for Home Upgrade Grants.  The Strategy also announced that Government intends to consult on a long-term regulatory standard to improve social housing to EPC C.
The Heat and Buildings Strategy builds on pledges made in the government's 10 Point Plan for a Green Industrial Revolution, and the Energy White Paper.
Pledges included:
£3.9 billion funding package to decarbonise heat and buildings.
£5,000 government grants from April next year through a £450 million 3-year Boiler Upgrade Scheme to help install low-carbon heating systems. (This is not open to social landlords, but will run alongside other funding packages such as the Social Housing Decarbonisation Fund).
£60 million Heat-Pump Ready Innovation Fund to make clean heat systems smaller and easier to install and cheaper to run.
All new heating systems installed in UK homes from 2035 to be low carbon.
At local level, continued support for the Local Net Zero Hubs (previously known as the local energy hubs).
The £3.9bn funding for decarbonising heat and buildings for the 3-year spending review period 2022 to 2025 is broken down as follows:
£950 million for the Home Upgrade Grant scheme
£800 million for the Social Housing Decarbonisation Fund
£450 million for the Boiler Upgrade Scheme
£338 million for the Heat Network Transformation Programme
£1.425 billion through the Public Sector Decarbonisation Scheme
Also launched is the Net Zero Strategy: Build Back Greener.  This strategy sets out policies and proposals for decarbonising all sectors of the UK economy to meet net zero target by 2050.
Local Climate Action
Key Points in the Strategy
Set clearer expectations on how central and local government interact in the delivery of net zero.
Build on existing engagement with local actors by establishing a Local Net Zero Forum to bring together national and local government senior officials on a regular basis to discuss policy and delivery options on net zero.
Continue the Local Net Zero Programme to support all local areas with their capability and capacity
The Strategy recognises the role of local government in meeting climate targets and sets expectations on how central and local government interact.
Government will continue to support the Local Net Zero Hubs (previously known as the local energy hubs). The North is home to two such Hubs – the North West Hub, based at Liverpool City Region; and the North East and Yorkshire Hub, hosted by Tees Valley Mayor and Combined Authority.
BEIS will establish Local Net Zero Forums to bring together national and local government to discuss policy and delivery options on net zero.  Chaired by BEIS, the Forum will be cross departmental and bring together national and local government senior officials on a regular basis to discuss policy and delivery options on net zero.  The Forum will support the establishment of clearer delivery roles for local government and provide a single engagement route into HM Government in a coordinated and coherent way.
The Strategy recognises that there are multiple funding streams at local level and a review will look to simplify and consolidate funds which target net zero initiatives at the local level where this provides the best approach to tackling climate change.
For local planning authorities there will be a review of the National Planning Policy Framework to make sure it contributes to climate change mitigation and adaptation as fully as possible.
Measures to increase heat pump installations
Key Points in the Strategy:
reduce the upfront and running costs
improve installation process and increase consumer satisfaction
increase public awareness and consumer familiarity
improve UK supply chain capacity and capability
Heat pumps are recognised by the Strategy as a key solution for decarbonising homes.  In addition to the Boiler Upgrade Scheme described above, a number of other measures have been announced. The Heat Pump Ready Programme will support the development of innovative solutions across the heat pump sector. The programme is expected to launch in winter 2021.  Heat Pump Ready innovation programme, part of the Net Zero Innovation Portfolio.
Government aims to drive down the cost of low carbon heating technologies like heat pumps, with heat pumps costing the same to buy and run as fossil fuel boilers by 2030, with big cost reductions of between a quarter and a half by 2025 expected as the market expands and technology develops.
Householders will not be forced to remove their existing fossil fuel boilers, with this transition over the next 14 years seeing households gradually move away from fossil fuel boilers.
To ensure electric heat pumps will be no more expensive to run than gas boilers, Government wants to reduce the price of electricity over the next decade by shifting levies away from electricity to gas. A call for evidence is expected to be published with decisions made in 2022.
A Heat Network Efficiency Scheme (HNES) demonstrator programme will help existing heat network projects ensure they are running at optimal levels to maximise carbon savings and heating services provided to households and businesses.
Green Skills
Key Points in the Strategy
Publish sector and supply chain development plans for key low carbon sectors
Work with business to encourage investment in green skills
Support the development of a skilled, competitive supply chain
Legislate for skills required for jobs that support action on climate change
Deliver a Lifetime Skills Guarantee and grow key post-16 training programmes
Introduce a sustainability and climate change strategy for education
The Strategy recognises in the construction and heating sectors, up to 230,000 skilled trades people could be required in 2030 to deliver the retrofitting of houses and to meet our ambition of installing 600,000 heat pumps a year by 2028, we will need to rapidly increase the number of qualified installers from around 3,000 to 35,000 within the next 7 years.
The Strategy addresses the challenges set out by the Green Jobs Taskforce and that these require further work through the cross-cutting delivery group, maintaining the momentum generated by the Taskforce to drive action across the green skills agenda.  Further evidence is required on the skills gaps which could hamper the net zero transition if left unaddressed, and to identify further opportunities to flex key skills programmes to support green sectors and occupations.
Further consultations
The Strategy either launches or promises consultation in several areas:
A consultation will be held on the case for enabling or requiring new gas boilers to be readily convertible to use hydrogen ('hydrogen-ready') by 2026.
Consideration will be given to setting a long-term regulatory standard to improve social housing to EPC band C. Consultation will be held with the sector before setting any regulatory standard.
A Fairness and Affordability Call for Evidence will be launched on these options for energy levies and obligations to help rebalance electricity and gas prices and to support green choices, with a view to taking decisions in 2022.
A consultation is launched seeking views on proposals to introduce a market-based mechanism to support the development of the UK market for low-carbon electric heat pumps.
Phasing out fossil fuel heating in homes off the gas grid Government is seeking views on proposals to phase out the installation of fossil fuel heating systems in homes off the gas grid.
The Government published its response to the Clean Heat Grant proposals within the Future support for low carbon heatconsultation, which sets out plans for a Boiler Upgrade Scheme.
NHC Reaction
A new funding injection of £450m over three years for heat pump installation is a boost for the manufacturing and installation of this technology, but we must consider the scale of the transformation needed.
In the North alone this includes an estimated 4.6 million homes needing heat pump installation, and 1.1 million homes to be connected to heat networks.
£450m delivered via individual £5,000 grants will mean 90,000 heat pump installations over three years which falls short of the Government's aim to deliver 600,000 heat pumps a year by 2028. Of the 600,000 heat pump installations a year by 2028 – half will be to existing housing, requiring insulation first.  There will be just three years to make this transformation happen.
Investment will help to drive down the cost of heat pumps, and technical innovation plus skills training is a part of this, but so is the scale of the challenge.
The Strategy talks about regional differences and the need for local supply chains to be developed, and the retention of local Energy Hubs is a positive here. It will be important the awaited Levelling Up White Paper takes account of this economic opportunity.
Tracy Harrison, NHC Chief Executive said,
"Whilst we welcome today's announcement, the Government have missed the opportunity to make a far bigger impact on their net zero and levelling-up agendas. Accelerating and targeting investment in the Social Housing Decarbonisation Fund would have injected certainty into regional supply chains, laying the ground for tens of thousands of good green jobs across the North. The Chancellor must use next week's Spending Review to confirm that today's announcements are just the start of a more ambitious long-term investment plan."
In our submission to the Chancellor as part of the three-year Spending Review we have called for the acceleration of Conservative Manifesto commitments to bring forward the full £3.8bn Social Housing Decarbonisation Fund into this Spending Review period (2022-23 to 2024-25).  The offer of £800 million released for the Social Housing Decarbonisation Fund over the spending review period is modest in comparison to the scale we estimate is needed to incentivise the market.
The full release of the Social Housing Decarbonisation Fund would unlock a further £2.1bn of contributions from landlords, creating a total investment of more than £8.4bn in energy efficiency nationally.
We also recommended to Government that investment is allocated via BEIS' local Energy Hubs on the basis of each Hub's share of England's fuel poor households. This would result in a £2bn investment in energy efficiency across the North from Government, co-funded with over £700m from social and private landlords, creating a combined £2.76bn investment in the North's homes over this spending review period: tangible evidence of Government's commitment to levelling-up.
Read the NHC's spending review submission here and look out for our on-the-day briefing when the Chancellor sets out his spending plans next Wednesday, 27th October..