Johnnie Johnson Housing and "The Armed Forces Covenant"…
…but just what, exactly, is The Armed Forces Covenant?
 Hi, I'm Yvonne Castle, CEO of Johnnie Johnson Housing and a Board Member of our wonderful Northern Housing Consortium.
I'd love to hear if you've signed the Covenant and what success stories you have!
A bit about Johnnie – Johnnie Johnson was a real person.  He was a world famous fighter pilot in the Second World War.  After retiring in 1966 his mission in life became to build his former brothers in arms good quality homes and help them live independent lives where they were still able to.  He formed Johnnie Johnson Housing (JJH) in 1969 and now we continue to carry on the amazing work that he started.
Honouring the tradition that Johnnie began and with our heritage, we have made a promise to the existing military community to offer more support to both serving and former members, together with their families.  18 months ago we did 2 things:
We signed our own JJH Armed Forces Covenant, and
We set up a Steering Group as part of the 27 Greater Manchester Housing Providers (GMHP) to do the same
What's the Covenant? – The Covenant is not about advantaging those who have served, but it does ensure that they are treated fairly; that they should not face disadvantage compared to other citizens in accessing housing and in the provision of services.  It's about taking account of their individual circumstances which might perhaps make things more difficult for them in accessing those services and products.  Support is provided for example, in housing, employment, family well-being, health care and financial assistance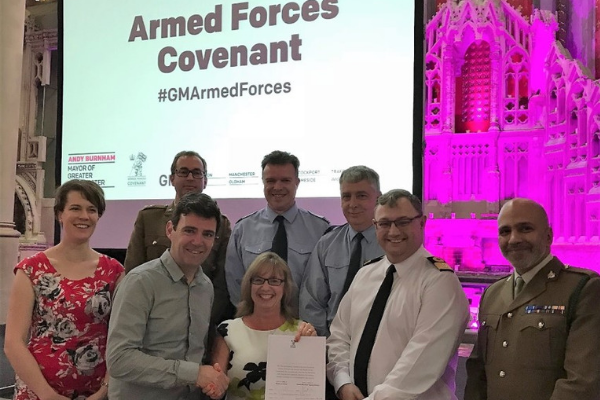 So how have we, and our Greater Manchester colleagues helped?
Being committed – GMHP signed Covenant
Bringing people together – a huge event brought our housing providers and support workers together who typically work with the military community, sharing how we can offer support to those who need it
Learning – we have an e-learning programme which helps us understand what it's like to come out of the Forces back onto 'civvy street' often with no job, no home and needing to re-find a purpose
Finding our current and ex veterans – by asking our residents the question and signposting them to support
Creating experts – through our Armed Forces Champions
Taking action – we have re-housed 9 former members of the Armed Forces across our regions in the North West, Yorkshire & Derbyshire, and the North East. Many of our Housing Providers have done the same
Helping into work – we have helped people into employment, we have our first ex Armed Forces Personnel working with us in JJH
So, as Johnnie said back in the day – "be brave, be bold, be courageous".  We are and we will continue to be so in our endeavours to honour our promise to the Armed Forces.
Please share your stories – we'd like to be able to do more of this across the North! Can you help?