Meet the Northern Housing Summit Sponsors & Exhibitors!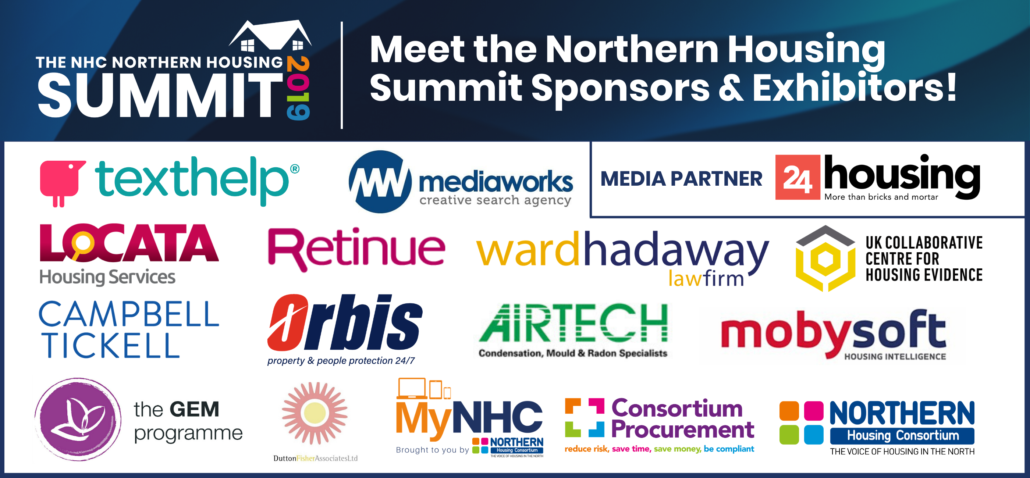 We're excited to bring you our Sponsor and Exhibitor Showcase for the Northern Housing Summit 2019 which takes place on the 5th November in the Renaissance Hotel, Manchester. All food and drinks will be served in the exhibition area which will be open throughout the event. Come and join us and our other exhibitors in between the main conference sessions.
If you are interested in setting up a meeting with any of the exhibitors mentioned below, please contact our Communications Manager, Claire Henderson.
Campbell Tickell is a multi-disciplinary management consultancy, focusing primarily on the statutory and non-profit sectors. Established for 20 years and operating through the UK, Ireland and beyond, we have expertise in housing, regeneration, social care, sports and leisure, social enterprise and charities.
Our services extend across: strategic and business planning; financial and risk analysis; governance; regulation; business transformation and improvement; mergers and partnerships; development, regeneration and growth; procurement; service user involvement; communications and public relations; human resources and recruitment.
CaCHE is a consortium of 14 institutions led by the University of Glasgow.
The centre is a multidisciplinary partnership between academia, housing policy and practice. CaCHE researchers work to produce evidence and new research that will contribute to tackling the UK's housing problems at a national, devolved, regional, and local level.
CaCHE is funded by the Economic and Social Research Council, Arts and Humanities Research Council and Joseph Rowntree Foundation.
Locata is a not-for-profit company owned by local authorities and RSLs that provides a complete range of web-based housing option services. Built from a core Choice Based Lettings system that went live in 2001, we have since developed a wide range of complementary products and services, including HPA2, the market leading homelessness system and our recent launch – Housing Related Support. We now work with 132 LAs and hundreds of housing associations delivering highly flexible and cost-effective systems and development options.
Mediaworks have established themselves as a leading full-service digital agency over the past decade, operating across all areas of digital marketing to deliver inclusive, successful campaigns. The Supporter membership with the Northern Housing Consortium is a key relationship for Mediaworks as they continue to deliver digital marketing support to housing associations across the North.
Retinue offers recruitment services in three key sectors: Healthcare, Social Housing and Local Government. Our expert team deliver a suite of workforce solutions, including Recruitment Managed Services, Recruitment Process Outsourcing, and blended solutions. Retinue can create a more streamlined recruitment service from start to finish, putting in place an efficient and cost-effective recruitment process that delivers an outstanding customer service experience to candidates whilst creating a quality and compliant workforce. Our senior team blends expertise across procurement, recruitment and talent management.
We're Texthelp, leading accessibility software providers.
Our digital tools support professionals and tenants on their digital journey – increasing levels of engagement, efficiency & equality. Browsealoud makes your website and digital content accessible – enabling tenants to confidently access/engage with your online services and allowing them to easily self-serve.
We also support your housing professionals with Read&Write – a smart toolbar that boosts staff productivity, inclusion and retention. The intuitive features increase digital efficiency for all staff and support those with declared or 'hidden' disabilities.
Ward Hadaway are proud to sponsor the Northern Housing Summit, as we have a long standing relationship with the Northern Housing Consortium. With offices in Manchester, Leeds and Newcastle, our social housing team are ideally located to assist across #OurNorth. Our ambition is to support social housing providers through expert legal advice on housing management, to developing new homes and everything in between.
We are keen to engage with attendees at the event, so please drop by our stand and say hello!
Airtech has developed a comprehensive service over the last 30 years, which offers landlords solutions to help ensure a healthy home for residents.
As a complete solutions provider, Airtech can conduct a free survey to identify condensation, damp and mould problems within the property; treat and eradicate any existing mould that may be present and supply and install ventilation equipment to reduce condensation and eliminate mould.
Airtech covers the whole of the UK and has worked with over 200 housing providers.
Consortium Procurement is the commercial arm of the Northern Housing Consortium. All of our surplus is reinvested into our main focus – to represent our members interests and ensure they are heard at a regional and national government level.
We are a not-for-profit membership body with a portfolio of over 400 members across the whole of the UK. We have provided public sector bodies with a compliant and trusted procurement route for more than 20 years. This has led to us collectively saving our members around £10m each year.
Consortium Procurement Construction is a collaboration between Consortium Procurement and LHC, expanding our offering to members to include a full suite of frameworks to support construction, refurbishment and maintenance of social housing and public buildings, providing MMC solutions and other construction-based frameworks to members.
There are a range of frameworks in the construction, extension and refurbishment category, covering traditional and modern methods of construction, in addition to building consultancy services.
There are specific frameworks for the construction of homes and for non-housing, including schools and community buildings.
Dutton Fisher Associates are one of the leading providers nationally of the levy funded Housing management apprenticeships at Levels 2, 3 and 4. These programmes can be delivered in-house or as open groups across northern England. They are being effectively used by employers to upskill existing employees, as well as developing new talent.
We also offer CIH qualifications from Levels 2-5; Leadership and Management apprenticeship programmes at Levels 3 and 5, as well as CMI and ILM accredited qualifications.
Mobysoft's RentSense solution helps deliver time and cost saving solutions, which create tangible ROI for social landlords. RentSense is a cloud-based predictive analytic solution that optimises front-line income management workload, giving officers more time for tenants.
The software helps over 145 landlords maximise income, create efficiencies and mitigate welfare reform. Recent independent research highlighted how RentSense users have lower eviction rates than non-RentSense users and how it helps landlords reduce arrears by £300,000 per 10,000 properties in the first two years.
Look out for our new online portal 'MyNHC' launching at the Northern Housing Summit (but available to everyone!) from the 5th November. MyNHC will give members:
better oversight of how your organisation works with us
the ability to book events, pay online and manage event bookings
access documentation
view procurement information
and much more.
The Northern Housing Consortium has been serving members for over 45 years, we are a not-for-profit membership organisation encompassing 93% of local authorities, ALMOs and registered providers of social housing across the North of England.
By using our support and procurement services, housing organisations are investing in making the North an even greater place to live.
Come to our stand to learn more about the services we offer, including our Business Improvement Services, designed to provide you with the help and support you require, and provided directly by the NHC and by the specialist expertise of our high-quality associates.
Orbis are market leaders in providing one-stop-solutions for property managers looking to secure or re-let their vacant properties. Orbis are longest standing vacant property security specialists, creating the first well known steel screens still used today.
Since 1981, Orbis has continued to develop services to provide peace of mind for property managers, for more information please visit our team or visit our website: https://www.orbisprotect.com
For the latest updates, follow us:
Linkedin: https://www.linkedin.com/company/orbisprotect-limited/
Twitter: https://twitter.com/orbisprotect
Since 2009 the GEM Programme has been recruiting and developing the future leaders of the social housing and construction sector.
GEM and GEM Talent in House Programmes provide unique and proven routes for you to recruit, develop and professionalise your talent pool.
During the 12 month programme GEMs attend a number of experiential learning events throughout the UK designed and facilitated by the GEM team; they build their networks across the sector and they complete a Chartered Institute of Housing Level 4 qualification.