We are excited to launch the NHC's new Corporate Plan, bringing together our vision to drive and deliver five clear and ambitious objectives over the next three years.
Created using the results from a recent member perception survey, developed with staff at all levels and agreed by our Board, the NHC's Corporate Plan delivers a strong message to members of our commitment to serving them and to achieving housing policy that really works for the North.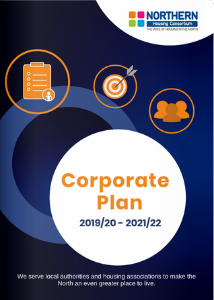 Our Vision has been reinvigorated to emphasise our vital influencing work alongside the outstanding services we will continue to provide for members.
At the heart of our plan for the next three years is our connection to members at all levels. We aim to strengthen and deepen our understanding of their interests. The launch of a new online portal, 'MyNHC' will give members better oversight of how their organisation works with us and help them bespoke their use of NHC services. We will continue to broaden the range of event types we offer to meet our members' changing needs.
A key objective within our Corporate Plan is an unrivalled ability to shape and deliver services that add value for members. A recent example of this is our new and exciting Consortium Procurement Construction (CPC) brand, expanding our offering to members to include a full suite of construction frameworks. This was borne out of feedback from members, and we will build on this and our other solutions and services, to best support our members.
We know members recognise the NHC's vital role as the Voice of Housing in the North. Over the next three years we aim to leverage the strong collective voice of over 140 Northern members (93% of local authorities, ALMOs and registered providers of social housing) to increase our influence and ability to make housing policy work for the North. Two objectives reflect this redoubled focus on influencing. We aim to craft messages and build an evidence base on the issues that matter to members and ensure we continue to reach and connect with decision makers and policy shapers. Our members can expect to continue to be involved in the creation and pursuit of our core policy objectives and we will build the evidence through conducting timely and influential research.
Our unique not-for-profit business model is brought to life within the plan, demonstrating how surpluses generated from our procurement solutions and competitive membership fees are invested back into our influencing work in the North. This solid financial footing sees us maximising the value and savings for members as we expand into new sectors and geographies. This enables us to bring investment back into our member support and influencing activity.
We worked with staff to refresh and review our corporate values to ensure they are owned and "lived" by everyone within the organisation. We are: 'member focussed', 'collaborative', 'innovative' and 'supportive' and we believe these values are the glue to delivering our Corporate Plan. The wellbeing and development of our staff is a key part of all our objectives, and we continue to undertake a series of initiatives to support them.
As stated earlier, at the heart of all our activity is a deep understanding of members' needs. We operate in highly uncertain times, and we will continue to review our plan and objectives to ensure we remain relevant and receptive over the next three years and beyond.