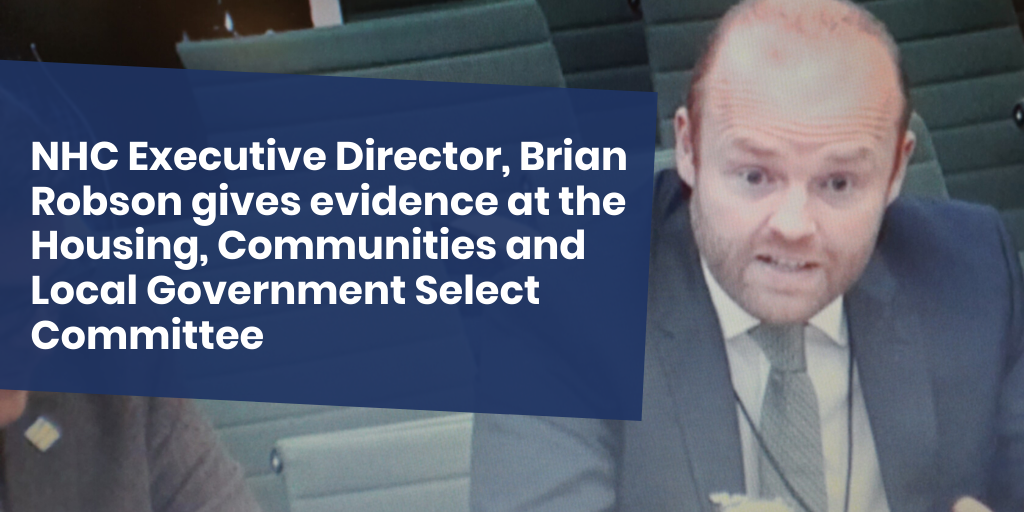 The evening of Monday 21st October saw our Executive Director of Policy and Public Affairs, Brian Robson, give evidence at the second session of the Housing, Communities and Local Government Select Committee regarding the long-term delivery of social and affordable rented housing (View the call for evidence here). The Northern Housing Consortium was invited to give evidence following our detailed response to the Committee's call for evidence on the subject.
The inquiry launched by the Committee aims to "investigate the effectiveness of the Government's current strategies to boost social and affordable rented housing provision." The scope of the inquiry will include examining the adequacy of funding levels as well as the programmes designed to stimulate the delivery of homes by local authorities and housing associations. The Committee will also look at the varied challenges faced in different parts of the country. With next year's Spending Review expected to set long-term investment budgets for affordable housing, the committee's conclusions will be important in setting expectations.
NHC CEO Tracy Harrison commented: "We have pledged to members that we will ensure our messages reach and connect with decision makers and policy shapers. Our invitation to give evidence to this influential Commons committee is a sign we're doing just that. Brian did our members proud, by highlighting the ambition that exists in the North and the changes we need to make housing policy work – including increased investment in affordable homes and rebuilding capacity in our councils."
Brian provided the voice for the northern region on Monday, alongside other representatives from Karbon Homes, Clarion Housing Group, L&Q, Campaign to Protect Rural England and Homes for the South West.
The Committee asked Brian, Victor da Cunha, Chair of Homes for the South West and Matt Thomson, Head of Planning at CPRE a series of questions about the long-term delivery of social and affordable rented housing. Notably, witnesses were asked if the approach to the delivery of affordable and social rented homes should be targeted on the basis of affordability measures, Brian responded:
"We (Northern Housing Consortium) are very concerned with the direction of travel in terms of the geographic targeting of key housing funds; the geographic targeting that was instituted last November for five other key housing funds, excluding the Affordable Homes Programme, means that now only four local authorities in the North of England have access to the lion's share of those five key housing funds. This is not consistent with the Government's ambitions to rebalance the economy [and] to see much more growth in the North, in line with the Northern Powerhouse agenda."
The Committee referenced the £12.8billion additional funding per year required for the sector's recommended target of 145,000 affordable homes per year, Brian said:
"It is really powerful that we (the housing sector) are united around this single figure. From our perspective, the important thing to note is that the wider sector wants this investment to be made available right across the country as there is affordable need right across the country. In our part of the world, it comes to 19,000 affordable and social homes required each year."
Some time was spent discussing the capacity of local authorities, Brian outlined that there is still a case for core funding at the next Spending Review for local authority housing and planning services due to the disproportionate impact on the North as well as the difficulties faced sourcing specialist skills. He also highlighted the leading role some Northern authorities are playing in the delivery of new homes:
"Councils that have larger Housing Revenue Accounts (e.g. Sheffield, Newcastle) have been getting on with it and have reached 500/600 homes now. 7 of the 10 biggest local authority housebuilders in the UK are in the North."
The recording of the session can be accessed on Parliamentlive.tv