Northern Regeneration: National Opportunity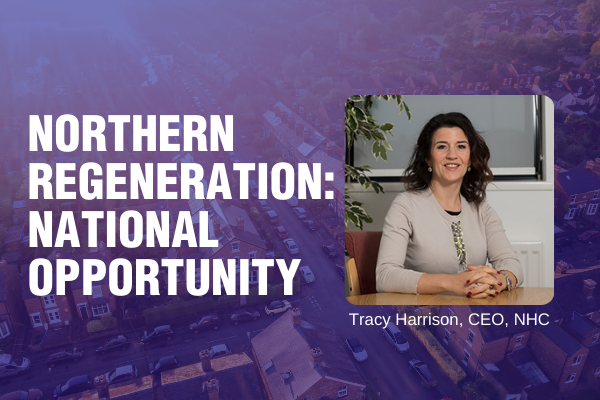 Prior to the pandemic, the argument for levelling up the North was largely about inequality: it was recognising the decades of under investment that had led to the North's economic under performance and was no doubt also driven by the Brexit referendum result, which clearly signalled the frustration and anger felt by those living in 'left behind' places – many of which were in the North. This frustration was further demonstrated by the dismantling of the so-called political 'Red Wall' across the North at the 2019 General Election.
And despite the potentially huge distraction caused by the pandemic, which has brought the whole country – including our nation's economic engine room, London – to its knees, Government has continued to pledge its commitment to the levelling up agenda (no doubt recognising that those former red wall Tory MP's are unlikely to enjoy their position beyond one parliamentary term unless the people who broke a lifetime's tradition by voting for them start to enjoy some tangible pay-offs from their gamble).
But the pandemic has created new arguments to support taking the heat out of London and the South East and levelling up our regional economies.
Firstly, there's 'us' as human beings. Never before has our health been under such scrutiny. The mental health impacts of our collective experience have yet to be fully felt (although there seems to be a widespread recognition that a tsunami of issues looms large as people start to process their experiences over the past 12 months or so); whilst the potential precarity of our physical health has been demonstrated more clearly than at any point in the last century. 'Wellbeing', once the sole preserve of yoga instructors & herbalists, is now a term in common parlance and certainly one that everyone, from teachers to business leaders to politicians, are acutely focused on.  Because poor wellbeing costs the nation dearly, both in financial and productivity terms (not to mention the obvious human costs). And we have irrefutable proof now that wellbeing – physical and mental – is not supported by living in over-crowded environments without access to green space. Given that we now know COVID is likely to be a feature of our lives for years to come (with further pandemics promised), surely this is something we cant ignore?
And then there's the technological argument for levelling up that COVID has gifted us. Overnight, millions of us shifted to home working. Something that many organisations had dreamed of and hoped to achieve a degree of over the course of their 5 year strategic plan suddenly just became a reality – because needs must when the devil rides. Now, for many jobs, where you actually live in relation to your registered office address and the corresponding transport links available to you, has become completely irrelevant. All that really matters now is your broadband speed and having space to work comfortably from home.
So, doesn't it make sense to try and disperse the populace to where this can be achieved more easily, by investing in the North? Particularly when this can be done whilst still affording a high level of protection to our politically sensitive greenbelt?
This is not the same as the Northern Powerhouse business case. Northern Powerhouse was about agglomeration – harnessing the potential of the North at scale, largely by improving transport connectivity. And whilst arguments were made about North East – North West rail links versus North to South links and which ones mattered most (and many stood on the sidelines of the debate muttering about whether HS2 and HS3 really mattered, because wasn't it all really about intra-connectivity and buses anyway?), COVID snuck in and showed us just how many of us need never really worry about transport into city centres again. That's not to say that transport infrastructure no longer matters, and the North is certainly desperate for investment and improvements having been starved of them for so long, but the economic argument has potentially shifted away from the agglomeration model.
The North has so much to offer. We have land, stunning coastlines and spectacular countryside, as well as rich physical and cultural assets. But we also have a shortage of jobs, failing town centres, and a high percentage of unfit housing, much of which is a sad relic of our industrial past.  Now is the time to recognise the massive regeneration potential of the North. The opportunity exists to reimagine our failing places and breathe new life into them, so that having a home, and a job, and enough space to work from home if you can – and perhaps even a garden – becomes a reality for future generations of Northerners (those born and bred here and those who will be attracted to relocate here). And in doing so, we can boost the economy, take pressure of our beloved NHS, and protect our wellbeing.
The past 12 months have shown us that the seemingly impossible can happen in a heartbeat if there's a will and a need. Let's not waste the lessons that COVID has taught us but use them to fuel an ambition to create a future that benefits us all, because supporting a Northern regeneration and levelling up has advantages for the whole country.