Who will retrofit a million homes in the North? Lord Best – Guest Blog
The Commission fo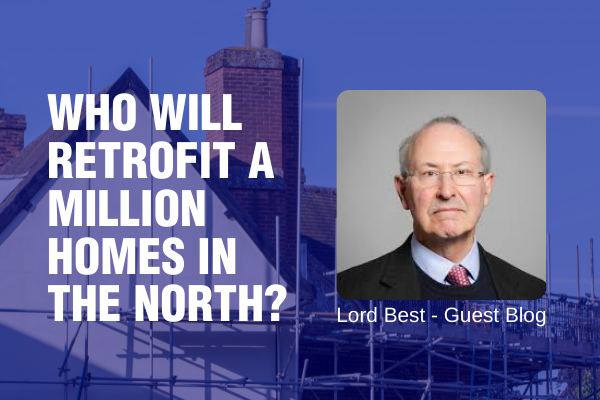 r Housing in the North showed us what needs to be done: a million homes in the North of England require upgrading. Most are owner occupied, often by people with relatively low incomes. But the worst conditions are found in the PRS. Quite apart from relieving fuel poverty and the miseries of cold and damp homes, the decarbonisation ambitions of government require action now. But who is going to organise and carry out the work to all these properties?
Private landlords are frequently unable or unwilling to invest in defective properties. Having expanded exponentially the PRS is, in any case, being reined back by tax changes and regulation. Poorer homeowners are even worse placed to find the money and organise necessary building works. The government's Green Homes Grant scheme might have helped but this has proved a failure.
Thirty years ago I would have said: 'By 2021 the Home Improvement Agencies – the Staying Put and Care and Repair organisations – will have covered country and branched out from Disabled Facilities Grants to comprehensive upgrading work'. My prediction would have been entirely wrong! Unlike housing associations that were created, or revived, in the 1970's and 80's, the HIAs have remained small, scattered, and under-resourced.
So what about social housing landlords?
These face problems of their own in improving their stock, achieving Decent Homes Mark 2 and taking advantage of the Social Housing Decarbonisation Fund in the future. Some of them have big problems in rectifying cladding and other defects, with government not keen to bail out their rented properties. But realistically it is the social housing landlords – Councils and housing associations – that surely represent the best option in actually delivering what we all agree is needed. These are the bodies already engaged in construction activities, in working with local communities, in handling large sums of public money, and often in supporting training and jobs. And they are in every town and city. They are fully regulated and know how to work with central and local government.
The Affordable Housing Commission recommended that as part of the post-pandemic recovery, government should establish a National Housing Conversion Fund. This would enable social housing landlords to acquire properties from some of the private landlords now exiting the market (not least because of the Covid consequences in rent arrears and the hassles of seeking repossession in the Courts). The Fund would achieve serious payback in achieving several goals: preventing homelessness, improving unfit property, generating jobs and skills, fulfilling levelling up ambitions, and saving health and social care costs.
The AHC recognised that the often-painstaking work of upgrading and reletting individual properties may not suit the operating practices of today's large scale social landlords. We thought it likely that in some places a partnership with smaller, community-based organisations would achieve the best of all worlds.
Could this theme be extended to cover partnerships with new or existing HIAs? In times past several housing associations had Home Improvement Agencies linked to them. Hanover, for example, had 21 such bodies covering different geographical areas. These provided advice and guidance, handyperson services and organised Disabled Facilities Grants to improve accessibility. Over time, Hanover shed these subsidiary bodies, some of which continued independently.
Is the time right for a revival of these partnerships, capturing the strength of the social housing sector to address the crying need for a huge national catch up in modernising outdated stock?
Will it be the zero-carbon agenda that triggers the level of new investment from central government to get the social housing landlords to take on this hugely important task?