Pressure builds to frontload social housing retrofit fund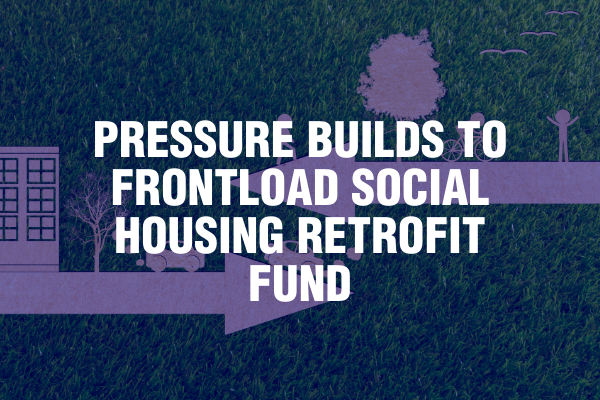 A Northern Peer has urged Government to open-up and frontload the £3.8bn Social Housing Decarbonisation Fund.
Speaking in the House of Lords on Monday 26th April, Lord Goddard of Stockport cited evidence from a report supported by the NHC to urge the Government to 'level up' and create thousands of jobs across the North in social housing retrofit.  Click here to watch the exchange.
Lord Goddard noted that the Industrial Strategy Council's Annual Report had found that the Government's plans are not yet a practical plan for delivering net zero, with several areas lacking the required scale to make progress at the required speed. Lord Goddard said housing retrofit was one such area, and asked Climate Change Minister Lord Callanan whether Government would accept the recommendations of the House of Commons Environmental Audit Committee's recent report on home energy efficiency, which recommended bringing forward the £3.8bn Social Housing Decarbonisation Fund. The Committee saw this recommendation as a way of scaling up demand for green products and services, delivering home upgrades at scale.
Lord Goddard – a vice-chair of the APPG for Housing in the North and a former leader of Stockport Council – noted that "It is estimated that green home upgrades could create 77,000 jobs across the North alone. My Lords, that is levelling-up." 
 The 77,000 jobs figure cited by Lord Goddard comes from the Northern Powerhomes report by IPPR North, supported by the NHC and our members through the #OurNorth Net Zero programme.  Responding for the Government, climate change minister Lord Callanan accepted that Lord Goddard made a good point, noted the recently-announced demonstration projects and confirmed the Government remains committed to the £3.8bn manifesto figure.
In a separate development, NHC Chief Executive Tracy Harrison has been asked to join the Consultative Panel informing the development of the Social Housing Decarbonisation Fund by the Department for Business, Energy and Industrial Strategy (BEIS).  Tracy will join the Panel from May, and assist BEIS officials in shaping and informing the design of the Fund.
Commenting, Tracy said "We have a good working relationship with Lord Goddard through the All-Party Parliamentary Group on Housing in the North – so I was delighted to hear him cite our evidence in this way. I'm also pleased to be further strengthening the NHC's relationship with BEIS by joining their consultative panel. These developments both provide evidence of the NHC delivering for members on our objective to ensure our messages reach and connect with decision-makers and policy-shapers."
NHC contact: Matthew Wilson, Member Engagement Officer: matthew.wilson@northern-consortium.org.uk
Source: https://parliamentlive.tv/event/index/6913de9c-42d0-490a-896b-d189252bddf8?in=13:11:35&out=13:12:41#player-tabs