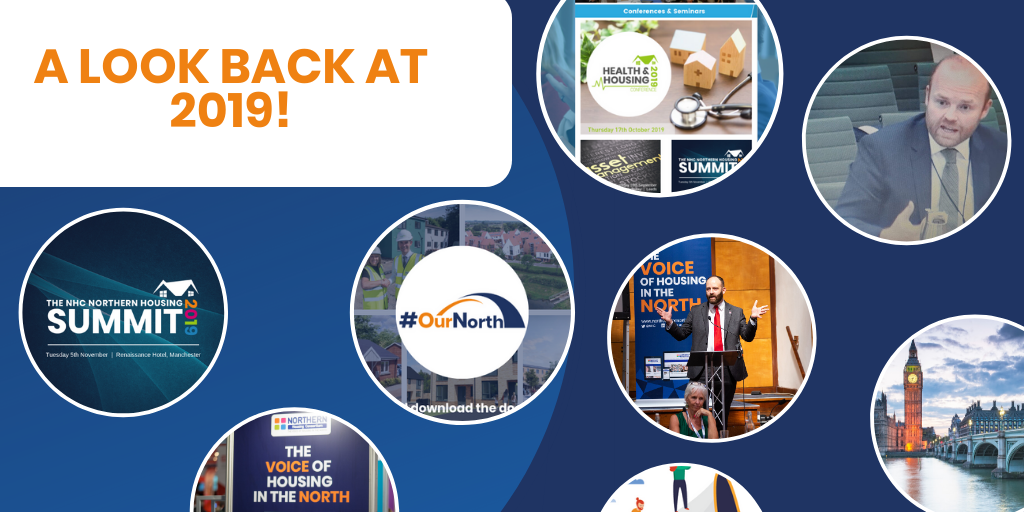 As attention turns to the year ahead, we take a look back at some of the work our members helped us to achieve in the year 2019. Our work programme has been busy, covering a new corporate plan, a focused influencing agenda and an exciting new collaboration to launch Consortium Procurement Construction, offering our members a variety of new construction based frameworks.
We held a busy events programme with our flagship Northern Housing Summit attracting record numbers of attendees and a fantastic line up of speakers. As we neared the end of the year we launched our online member portal: MyNHC – to help give you more visibility of the ways your organisation uses its NHC membership and in recent weeks we announced a new bursary scheme offering awards of £500 to tenants to support learning opportunities.
Earlier this month our Chief Executive, Tracy Harrison wrote for Inside Housing on climate change, exploring the unique challenges facing the North, and the importance of retrofitting the region's existing housing stock to make it fit for the future. The NHC team is now stepping up engagement with members at all levels to understand your priorities within this agenda.
Universal Credit Revisited Report is published in April
Earlier this year we published the report: 'Impact of Universal Credit – Revisited' which builds on evidence collected in the NHC's year-long longitudinal study of its membership across the North, collecting evidence on their tenants, their organisation and their experience of dealing with the Department for Work and Pensions (DWP). The report also reflects on other studies throughout the roll out and anecdotal evidence from member consultation events.
The report was praised by Steve Moseley, group director of governance, strategy & communications, L&Q and editorial panel member, Thinkhouse (Inside Housing) stating: "the NHC's focus on this important area is pleasing to see. It's also a particularly good report – short, focused and well written… it is the human element that has the most impact and the various case studies included throughout the report make sobering reading."
Read the full article from April and download the report here.
The NHC appointed a new executive team in May
In May 2019, our Deputy Chief Executive, Tracy Harrison was appointed to the role of Chief Executive, and we welcomed a new Executive Director (Policy & Public Affairs), Brian Robson who joined us from Homes England. The new executive team also includes Executive Director (Operations & Finance), Catherine Wilmot, who joined the NHC last year on a permanent basis following two previous periods covering maternity leave to direct the commercial and operational support areas of the organisation.
Read the full article about the executive team from May here.
The launch of our new collaboration: Consortium Procurement Construction at the Consortium Procurement Village, CIH
The Village is Consortium Procurement's largest exhibition of the year. Held in Manchester over three days within the CIH Housing exhibition hall, it proves to be an excellent networking opportunity for all involved. This year was a great success with nine of our supply partners choosing to exhibit alongside us on our stand.
This year we also launched Consortium Procurement Construction, a collaboration between Consortium Procurement and LHC, expanding our offering to members to include a full suite of frameworks to support construction, refurbishment and maintenance of social housing and public buildings, providing Modern Methods of Construction (MMC) solutions and other construction-based frameworks to members.
Since launching the CPC brand, we have already provided the solution for the expansion of a primary school: Northumberland County Council's first ever MMC building project.
Read more about it on the website.
#OurNorth launched in July with fantastic support from our members
In July, we launched #OurNorth, the banner of our influencing activity which is our bid to tell the positive story about the ambition and opportunity we see in the North every day. It highlights our key asks of government:
Expand the affordable homes programme and ensure it continues to create great homes and places right across the North
Create capacity in our councils to deliver on their housing ambitions
Boost standards in the North's private rented sector through a flexible regeneration fund.
During the election, we wrote to selected Parliamentary Candidates and shared with them the Building #OurNorth publication. This booklet sets out a range of case studies illustrating the importance of the Affordable Homes Programme to the North of England, and lends our backing to the sector-wide call for an ambitious expansion of this programme, and for it to continue to support homes in all areas of England, including right across the North.
The #OurNorth campaign will run up until the spending review and you can still get involved by sending us your case studies. Go to our website for further details about the #OurNorth campaign or download the Building #OurNorth Publication and read the case studies on our website here.
Our Executive Director Brian Robson gives evidence at the House of Commons Housing, Communities and Local Government Committee
The evening of Monday 21st October saw our Executive Director of Policy and Public Affairs, Brian Robson, give evidence at the second session of the Housing, Communities and Local Government Select Committee regarding the long-term delivery of social and affordable rented housing (view the call for evidence here). The NHC was invited to give evidence following our detailed response to the Committee's call for evidence on the subject.
Read the full write up from October here.
Our new Corporate Plan launched in October
We were excited to launch our new Corporate Plan in October, bringing together our vision to drive and deliver five clear and ambitious objectives over the next three years.
Created using the results from a recent member perception survey, developed with staff at all levels and agreed by our Board, the NHC's Corporate Plan delivers a strong message to members of our commitment to serving them and to achieving housing policy that really works for the North.
Read more about our Corporate Plan and download it here.
Northern Housing Summit
The Northern Housing Summit took place in November and was attended by over 180 representatives from housing associations and local authorities. The day had three main themes running throughout – future vision and ambition, quality and place, and capacity, delivery and regulation.
One of the event highlights was the morning session which asked: 'what can we expect for the housing sector in the North?' Delegates heard from Chair, Steve Douglas, Group Chief Executive, Aquila who set the scene of what was a thought provoking session with Gavin Barwell, Chief of Staff to the British Prime Minister (from 2017-2019), Polly Mackenzie, Chief Executive of DEMOS and Director of Policy to the Deputy Prime Minister (from 2010-2015) and Director of the Smith Institute, Paul Hackett.
Read the full event summary here and the event write up in 24housing here.
The launch of our online member portal: MyNHC
We launched MyNHC at the Northern Housing Summit last month – MyNHC is an online portal to help give you more visibility of the ways your organisation uses its NHC membership. MyNHC will give you better oversight of how your organisation works with us, with the ability to book and manage events, access documentation, view procurement information and much more.
You will be able to see details of the Consortium Procurement solutions your organisation is currently accessing; this includes information on your current contracts. All NHC event bookings will now be made using MyNHC.
Sign up to MyNHC here or read our blog MyNHC – putting members at the heart of NHC services by Kate Maughan, Director of Member Engagement.
The NHC Unlocking Success Bursary Scheme launched earlier this month offering awards of £500 to tenants to support learning opportunities
The Unlocking Success Bursary Scheme, funded through the Northern Housing Consortium Charitable Trust, will award bursaries of £500 to help tenants develop their learning and skills to support their future employment.
The bursary covers a study period of up to a year and can support your tenants with the cost of the learning itself, or if they are already involved in an area of learning it can help to fund books, equipment, travel costs, childcare or other living costs that will help them to complete a period of learning.
To be eligible to apply for the bursary, tenants must be aged 16 or over and housed by a social landlord. They must be using the bursary to enhance their skills to further their development. This can be at any level. Applications are via the social landlord.
Read more about it on the website here.
 The Northern housing sector is ready to lead the fight against climate change
Our Chief Executive, Tracy Harrison has written for Inside Housing earlier this month on climate change, exploring the unique challenges facing the North and the importance of retrofitting the region's existing housing stock to make it fit for the future.
The NHC's member-led board have agreed to develop a programme of work intended to secure the resources and policy changes we need to make large-scale, carbon-focused renewal of the North's housing stock a reality. The NHC team is now stepping up engagement with members at all levels to understand your priorities within this agenda.
Please contact our Executive Director, Brian Robson to help us shape our activity around this core policy objective.
Read the full article here.